Mask and puppeteers making for children
Wednesday workshops
Especially designed for kids between 8 and 12
'Azur et les Aéroplanes' offers both mask making and puppeteers making workshops on Wednesdays. Although these workshops are primarily designed for kids between 8 and 12, we encourage parents to accompany their child.
MASK MAKING WORKSHOP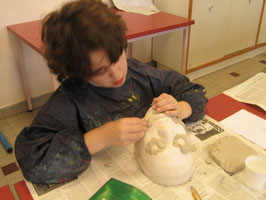 Inspired by the rich European heritage of mask making, this workshop aims at designing and shaping your own cellulose mask using a clay mask as a base.
Schedule
Each session has a theme in relation with the European mask-making tradition and the season in which the course is scheduled. 
The sessions are held on Wednesday  
Themes for 2010 Season:
'Springtime Workshop'
Traditions linked to the return of the spring season and to the revival: devils, witches and young brides.
DATES :                                  MARCH : 3, 10, 17, 24 and 31 / APRIL : 7
'The Young Summer Time Workshop'
May traditions are filled with fertility and alliances: 'Under the peer tree'
DATES :                                  MAY : 5, 12, 19 and 26 / JUNE : 2, 19
Group size :
Maximum of 5 to 10 participants
Tuition
€ 9,50 x 6 courses = € 57 (all materials included) (= € 9,50 for each course of 1h15)
+ € 21 for the annual membership
Payment is due at the beginning of each session. Not refundable (you are committed for a whole series)
Same tuition for accompanying parent/adult
€ 220 for a year (all XXX series). In this case, the payment can be spread (ask us for specifications)
Puppets Making Workshops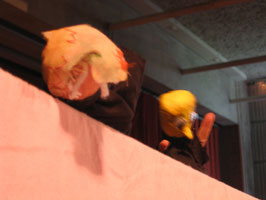 Azur et les Aéroplanes offers as well, puppets with paper girdle making workshops for kids from 8 to 12 years old.
This training give rise to introduce kids to traditional tales, which feed puppetry creation. The cycle will end to a game session with puppets and children's party.
Tariffs and schedule are the same as mask training. 
Topics for puppets making workshops:
- "The well-behave craziness of Nasruddin"
- "The love and wisdom tree"
- "Sedna and the sea birds"
Cycles of the season 2010 for mask making workshop:
'Springtime workshop'
Tradition of spring season back and of the revival: devils , witches and young brides.
Wednesday the 3rd, 10th, 17th, 24th, 31st of march and 7th of April.
Tariff: 9,50€ x 6 = 57€
'The young summer time workshop'
May tradition with fertility and alliances: 'Under the peer tree'
Wednesday the 5th, 12th, 19th, 26th of may and 2nd, 19th of June.
Tariff: 9,50€ x 6 = 57€